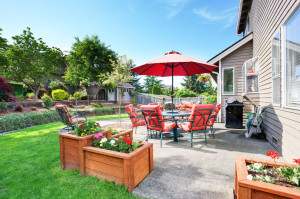 Summer is a busy time of the year for real estate. That's due in great part to logistics. It's easier for many households to move in the summer. Many families with children try to time their moves in June and July so their children can start the upcoming school year in their new school. Many corporate relocations also are scheduled for the summer months. It's a popular time for buying and selling homes. Here are some tips for putting your home's best foot forward if you're selling this summer:
Make sure your yard is tidy. While you've probably already given your home a thorough spring cleaning, concentrate on the outdoor spaces that prospective buyers will be eyeing. Be sure to keep your lawn mowed, trees trimmed and your yard free of weeds. Get rid of clutter both inside and outside of your home to give it a fresh look. If you can't hide unsightly items, consider stashing them in a garage, or renting a storage unit while showing your home.
Flowers are always nice. Invest in some affordable annual flowers to plant in and around your yard. Choose bright colors that pop and complement your existing landscaping. Hanging flower baskets and ready-made potted plants are small additions that can make a big impact on your home's curb appeal.
Create an outdoor dining area. Can prospective buyers piture themselves hosting family barbecues or dining privately under the stars? Organize an area with outdoor seating and a place to grill or serve meals. Investing in a few lounge chairs and an umbrella can create an instant outdoor oasis.
Set the stage for summer. Finally, bring the outdoors in with a splash of summer décor. Change out pillows and linens for a beach theme, add summer-scented candles, and accent your furniture with cheerful indoor plants and flowers. Keep the indoor temperature cool — no one wants to tour a hot and stuffy house.