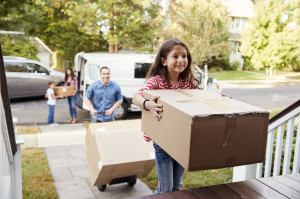 It's a case of "the more, the merrier" when a new family moves into your neighborhood! You want them to feel comfortable, and one means to that end is to reach out. What would television's Mr. Rogers, the king of kindness do? Here are a few simple ways to roll out the welcome wagon:
1. Lend a hand. Moving is a lot of work, but many hands lighten the load. Offer to bring in a few boxes or help move a large item as a show of neighborly good faith. Even if they don't take you up on the offer, they'll still appreciate the sentiment. Check in again after they are settled in to see if there's any way you can help.
2. Bring over a treat. Whether store bought or homemade, there's nothing more welcoming than something sweet. Bring over a pie, cookies, donuts, or muffins and use it as an excuse to introduce yourself to the new faces. Include a handwritten note and you have the perfect recipe for hospitality!
3. Offer a meal. With kitchen tools and appliances likely still boxed up, getting dinner on the table is going to be difficult. Your new neighbors will appreciate not having to worry about another detail.
4. Suggest your favorites. If your new neighbors are moving in from out of town or state, they likely don't have much familiarity with the area. Ease their transition by putting together a packet with some neighborhood staples — favorite places to eat, shop and more. Give your recommendation for the best restaurants and grocery stores, and they'll start to feel right at home.
5. Introduce the kids. Offer to have their kids come over and play with your kids. After they have settled in, provide useful information about local schools and amenities for children.
These simple acts of service can help you make it a "beautiful day in the neighborhood."